Free Delivery Within United States | Additional Donations Can Be Made During Checkout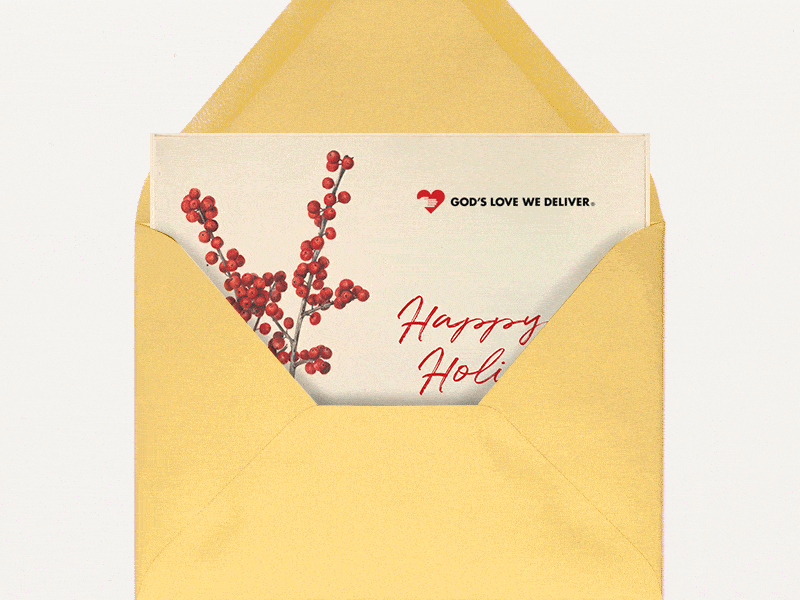 RADIANT animated tribute ecard
Perfect for sending to clients, vendors, and prospects, our animated ecard brings an unexpected and personal message to your business associates' inboxes. Mary Vaux Walcott, Winterberry (Ilex verticillate), 1920, watercolor on paper, Smithsonian American Art Museum. Gift of the artist, 1970.355.394.
Category
animated tribute ecard
For a minimum donation of $1,000, we'll personalize this year's animated ecard—RADIANT, above—with any of these: your name, your organization's name, a brief message, your organization's logo. We send you the completed file and you send it to your email list with no limit to the number of recipients. It's an easy and engaging way to connect with your contacts with a message of good wishes for the new year.
Most importantly, your donation provides much-needed support for people too sick to shop or cook for themselves. A $1,000 donation delivers nourishing, healthy soup for 200 clients whose illnesses interfere with their ability to chew.
The image is sent as a .GIF file and is compatible with all major email programs. The size of the file, before customization, is 6.3 MB. We email you the file within 7 business days of your order.